Radiohead – Karma Police (Alpha Data Remix) – FREE DOWNLOAD!!!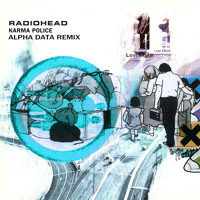 Alpha Data aka James Ristvedt from Minneapolis, MN, United States took the timeless classic "Karma Police by Radiohead" and warped it up with BASS , the ORIGINAL tune is well preserved but he added DRUMSTEP lines to the beauty of "KARMA POLICE" and rocked it really hard but it seem not lost its charm at all, OK it is not the guerrilla lone some rider attitude because DRUMSTEP is with its faced paced beat and bass a group thing , but i guess there thousands  or more who love this tune so much that they remember the lyrics word by word so that there will be a mob who will do not like it because they are hardliner and straight RADIOHEAD fans , but I guess  there will be a huge amount of people who will break out and sing with this modern classic , so what ever this remix by Alpha Data is a legit massive BASS MONSTER of a REMIX by Alpha Data aka James Ristvedt
BOOKING INQUIRIES:
Ben Hogan – Circle Talent Agency
ben@circletalentagency.com
GENERAL INQUIRIES:
Marc Brownstein
marc@discobiscuits.com
REMIX/COLLAB INQUIRIES:
Alpha Data alphadata@alphadatamusic.com
James Ristvedt is no typical recent law school graduate. Until a short time ago, James balanced his time between days in classrooms and nights between stacks of speakers. Having completed his final year of law school, James' bass-fueled alter ego Alpha Data may have something to say about what the future holds.
In just under a year, Alpha Data has five EP releases under his belt. His debut release, "Nefertiti" (GruntWorthy Music), hit #1 on the Beatport Glitch Hop chart, and #50 on Beatport's overall release chart. This was immediately followed by a free EP, "Nefertiti Remixes," with remixes of the chart-topping "Nefertiti" by an all-star cast of producers (including fellow #1 Beatport artist Ben Samples). Alpha Data's third EP, ADHD (Tycho Records), also enjoyed commercial success, rising to the top of the Beatport Glitch Hop chart, and hitting #44 on Beatport's overall release chart.
The release of Alpha Data's fourth EP marked the beginning of a new direction. Ominously titled, "I Am the One Who Knocks" was released by Alpha Data for free as a thank you to fans for their growing support. As part of a decided shift from a purely glitch hop sound, "Knocks" contained a variety of styles not previously touched upon by earlier releases (dubstep and drumstep, among others), but maintained Alpha Data's signature sound – a combination of high-intensity bass lines, aggressive drumbeats, and catchy, melodic hooks. Alpha Data's most recent EP, "Archive Data (Volume 1)," is the first release in an ongoing collection of previously unreleased tracks that have been remastered.
With no previous touring experience under his belt, Alpha Data spent New Year's Eve 2011 opening and playing set breaks for the Disco Biscuits at the prestigious Auditorium Theatre in Chicago. In 2012, he played sets at well-known electronic music festivals (Starscape, Camp Bisco) and shared the stage with numerous internationally renowned headliners (Skrillex, Flux Pavilion, Tipper, Paper Diamond, and countless others), consistently showcasing his ability to appeal across multiple genres. His high energy performances and high quality productions have helped Alpha Data develop a steadily growing following amongst EDM fans across the country, and his momentum shows no signs of slowing down.
Alpha Data – Coming soon to a sound system near you!