JK Soul – Take Me Higher (Full Album)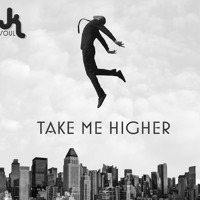 JK Soul from FAT Sound, Slovenia rocks the soul train in every style and variety of music he makes, he packs his cultural and beautiful detail works in his tunes the Slav and Slovenian SOUL in his CRAFT "JK Soul – Take Me Higher (Full Album)" proves this with every tune; you can hear  his roots  which gives  all his tunes that factor of soul which made his ALBUM whole , despite all the different styles and bpm velocity we can found the red line which made "Take Me Higher" by "JK Soul " a perfect pleasure to listen to, 16 tunes from DOWN TEMPO pieces and DRUM AND BASS BANGER, house , swinging electro tunes , dUBSTEP, TRIP HOP and brilliant SOUL which made his name , JK SOUL from SLOVENIA. A perfect album with all the ingredients to save the night ,to season the summer and the season of 2013 , JK SOUL is going to be touring round SLOVENIA and HUNGARY ,check the dates he  might play his music  next to your resort if you make holiday in or  round SLOVENIA and HUNGARY.

DISCOGRAPHY:
www.jksoulmusic.bandcamp.com
Booking & Remixing:
Do you want to book JK, live act show or dj set.
Get in contact with us:
book@jksoulmusic.com
Check JK Soul's DJ Sets:
alturl.com/pxzk2
SHOW DATES 2012:
22/24th of November (more info TBA)
@ Medijski Festival Ljubljana (Ljubljana, Slo)
10th of Nov:
@ Klub K4 (Ljubljana, SLO)
7th od Nov:
@ Maribor (more info TBA)
31st of Oct:
Halloween party @ Kino Udarnik (Maribor, Slovenia)
19th of Oct:
@ JAMCOAST, SlovenJAH – PUB33 (Koper, Slovenia)
22nd of September:
@ Dva Miljona Rim – (Voke, Mišače-Globoko, SLO)
29th of August:
@ Ozivela Ulica – (Koper, SLO)
28th of July:
@ Plac pod Belvederjem – (Izola, SLO)
26th of July:
@ EPK – Postna Ulica (Maribor, SLO)
4th of July:
@ Lent Festival – Kino Udarnik (Maribor, SLO)
29th of June:
@ San Pelegrino beach Festival (Umag, HR)
14th of June:
@ w/Emkej @ Urbani Vrt (Vrhnika, SLO)
26th of May:
@ Mladostni dan @ Arigoni (Izola, SLO)
18th of May:
w/EMKEJ @ KOLOSEJ MARIBOR (Maribor, SLO)
11th of May:
w/EMKEJ @ (Slovenska Bistrica, SLO)
5th of May:
@ Mirakul – (Baska Voda, HR)
4th of May:
@ Q Bar (Zadar, HR)
30th of April:
@ Južnjačka Utjeha (Baska Voda, HR)
29th of April:
w/Cayetano @ Art Caffe (Dubrovnik, HR)
28th of April:
w/EMKEJ @ CMT SPRING BREAK – (Rovinj, HR)
21th of April:
w/EMKEJ @ MIKK (Murska Sobota, SLO)
14th of April:
w/EMKEJ @ KLUBAR – (Kranj, SLO)
13rd of April:
w/EMKEJ @ XTIME CLUB – (Ptuj, SLO)
31st of March:
w/EMKEJ @ ŠTUK – RED BULL EVENT – (Maribor, SLO)
30th of March:
w/EMKEJ @ BAR KLUB – (LJUTOMER, SLO)
21st of March:
w/EMKEJ @ CIRKUS – (Ljubljana, SLO)
3rd of March:
w/EMKEJ @ KINO UDARNIK – (Maribor, SLO)
This set contains 16 sounds, total time: 57.27