Phoenix with R Kelly – Ignition ( 1901 Remix ) Live @ Coachella Festival 4-13-13 in HD
fresh minutes ago R Kelly showed up for Phoenix's encore and did his take on 1901 and Ignition.Live @ Coachella Festival 4-13-13 and i still love the the spirit he put up when he sings he got the R KELLY thing which is rocking the masses and it got the power and touched fans and producer world wide in seconds before it was streamed by a fan , there where world wide uploads to this collaboration between PHOENIX and R KELLY, this is music and new media , which can now react now faster , independent than a network can be , IT was the ENERGY of one EVENT , ONE SESSION , TWO ARTIST who rocked the stage but moved people world wide to post and aknowledge the ENERGY of a tune played in COACHELLA 4-13-13," WHAIT  WHAT" from  San Francisco, United States , "CASUALLY HERE" in LONDON and me here inspired by the PHOENIX and R KELLy, MAn this rocks the shit out of the million dollar advertisement machine DAFT PUNK are rocking , R KELLY and PHOENIX did it with one GIG  to inspire with one tune to reach a audition world wide in less than 6 hours it goes out from COACHELLA to BOULDER, to SAN FRANCISCO, TO LONDON and HONG KONG in hours just with the energy of a gig
RESPECT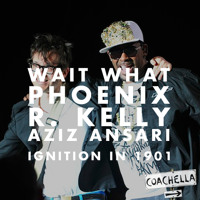 wait what – ignition in 1901 (r. kelly vs phoenix vs aziz ansari)
big up to the coachella crew , R KELLY , PHOENIX , "wait what" and "casually here" crew for the sweet post
and thanks to "wait what" from San Francisco, United States who made it and put up the tune on the clouds , ok if you like the DAFT PUNK collaboration you are going to love this collaboration between R KELLY and PHOENIX this is not just FUNKY, this one got the spunk and ENERGY and rock the funky SOUL with R KELLY a driving POWER , he is the core who gives the sweet french INDIE DEMI GODS the SOUL which made R KELLY the  ICONIC ARTIST he is and both togehter are just surpreme and Casually Here
got a monster mashup
CASUALLY HERE themselves
Mashup I did ages back in 2009 of Phoenix's 1901 and R Kelly's I'm a Flirt. Just saw the Coachella live mashup and had a moment of wooah did I ever post that?! Are they actually biting my style (hahahaha)… realised I'd never posted it so it's ok – they're not ripping me off with their own artistry and genius…. Just great minds and all that.
big up to the coachella crew , R KELLY , PHOENIX , "wait what "crew for the sweet post and casually here for such a dope mash up
London, Britain (UK)
it's pretty awesome that phoenix brought r. kelly out for their coachella set. since there's only a fan-made video of it, here's a studio-quality version of the collaboration I made.
r. kelly: ignition (remix)
r. kelly: i'm a flirt
phoenix: 1901
aziz ansari standup
free d/l available at
www.waitwhatmusic.com
Charlie Kubal, better known by his stage name wait what, is a San Francisco music producer specializing in mashups, most notable for his creation of the notorious xx. The album paired the music of Notorious B.I.G. with the debut album of The xx and was named "the best mashup album of 2010"[1] by The Guardian . He has released three albums and performed with artists including Lil Wayne, Wiz Khalifa, Mötley Crüe, and Taking Back Sunday.[2]
better known for