Dillon – Thirteen Thirtyfive (Christian Strobe Remix)
Dillon – Thirteen Thirtyfive remixed  by Christian Strobe fresh like sound for the spring beginnning , a tune with love , lust and forbidden sins , all about fun , christian strobes disco trap underlines the heavy plot of dillons text , and let it figurative spring and swing , and his skillz and magic is literally going move , swing and let young masses of beautiful girls and boys dance to his remix , this is a powerful electro tune which got a fresh wind that is going the southern bells and summer skirts swing with elan and movement we love , when the rhythm  goes into the hips and let all of them whine to that tune , whine your spline gurl,
respect a powerful floral disco trap tune by Christian Strobe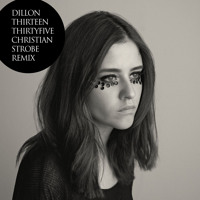 FREE DOWNLOAD (click buy-button)
www.facebook.com/christianstrobe
Buy music by Dillon here:
itunes.apple.com/de/album/this-si…ills/id475303605
Buy music by Christian Strobe here:
itunes.apple.com/de/album/back-in…apes/id595340203
christian strobe in the club near by ?
## SHOWS ✈
2013-07-31 Pag, Love Boat (CRO)
past:
2012-11-10 Atomic Café, Munich (GER)
2012-11-16 Treffer, Aschbuch (GER)
2012-12-01 Hide Club, Regensburg (GER)
2012-12-29 Exil, Zurich (CH)
2012-12-31 Scala, Regensburg (GER)
2013-01-05 tbc, Zagreb (SER)
## INFO △
Future Dance ,Cosmic House ,Dreamwave , Nu Disco
Christian Strobe knows to turn the right knobs: DJ, dancefloor worshipper, music producer, engineer, film-maker, graphic designer, promoter, label owner, hypemachine-chartbreaker, blog beloved & 80ies lover. Any questions? Let the music play!
## ALBUMS ♪
Christian Strobe – Back In The Wrong Time [Globelle]
Christian Strobe – Reworks #1 [white]
Christian Strobe – Reworks #2 [white]
## RELEASES ♫
Christian Strobe – Drive (V.A.)
Christian Strobe – Love Without Love (E.P.)
Christian Strobe – Midnight Call (E.P.)
## REMIXES ♪
Dillon – Thirteen Thirtyfive
My Bloody Valentine – New You
Bahamas – Never Again
Missent To Denmark – Catching The Frame
Satellite Stories – Sirens
Joy Division – Love Will Tear Us Apart
Feist – Bittersweet Melodies [white]
Papers & Places – To Berlin Remix
Wilhelm Tell Me – Favorite Sound [SPR]
Holy Ghost! – Wait And See [white]
Katy Perry – The One That Got Away [EMI]
My Bloody Valentine – Soon [white]
Tensnake – Something about you [white]
Arcade Fire – No Cars Go [white]
M83 – Midnight City [white]
Lips – Everything to me [white]
Management / Remix-Requests / Booking:
christian@globelle.net